Cassiopeia Isle Drive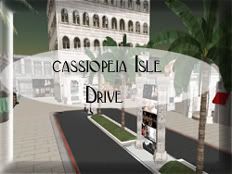 Put stuff here
put something here

Rentals
stuff here


stuff here
AD Space Open
Ad Space open ^_^
AD Space Open
Ad Space open ^_^
Sunday Sunday..Shopping with the Kitten
Monday, February 12, 2007
Bright eyed and bushy tailed on a cooold Sunday morning I decided to take the day off from work and float around Secondlife and just enjoy a day of shopping. Something this kitten usually neeeever does. My shopping usually is very umm strict..to the point..boring..can't find the words but I scan the forums see something I like bada boom bada bing run in, grab it and out I go. Yes I know wha a female who
doesn't like to shop snickers *whispers in your ear* we do exist,really we do..
However on this Sunday I found myself standing in the middle of Kin Keiko's store, just taking my time and looking at all her new items. I was lucky enough a few months back to have a friend take me to Kin Keiko's
and my first time there I think I almost bought everything she had. If you have never been I highly recommend you go.Kin Keiko in my opinion has grasped the feel and style of just that romantic wispy carefree look,every time I wear one of her designs I feel like I should sprout pixie wings and take off at full speed and just enjoy tearing through a blue sky without
a care in the world.And affordable! At 100L a piece I don't have to bargain with myself and think ok if I get this one I can't get that one I'll have to come back in a
few days..nope you can just get them all but by all means go back! ^_^
Like I said I pretty much have all her designs with the exception of maybe one or two of the male pieces which I may go back and get anyway for my male modeling..This time around this is what came home with the kitten..
1.Amaunet: Very soft and again whimsy long hair style pulled up on either side
with flexi ties. I've actually been wearing this one quite a bit,especially
with my big ol stomper boots


2. Amelia : Another long style pulled into what I call piggy buns,because their both pigtails and buns (this is what my family and friends call ravense I'm so special I have my own vocabulary) seriously if my hair was a bit
longer I probably would run around like this in real life. Long flowy and swishy when you
walk.Simply Adorable.
3. Cassi : I love short hair even though the majority of the time you will find me with long hair only because thats what I have in rl and just what I'm accustomed to,however! Short hair I think is so sassy and sexy. Kin Keiko does a wonderful job adding the wisps of bangs in the front for just enough flexi to make this hairstyle both able to be formal and casual depending on what occasion you have lined up for the night.

4.Emi:This hairstyle may not be for everyone but I just had to have it when

I saw it. It just screams FUN!!! This is the girl you see out on a surf board, or skateboarding or tearing around the corner in a go- kart. Her hair is the
last thing on her mind but it still looks fantastic.

5. Koda:Laughs softly, very rarely do I find something in any game that just makes me break out in a smile, this short hairstyle did just that. Not your
everyday combing,although for some it may be and I say kudos to you but again something that I bought sheerly out of the fact that it just gave my
avie that fun ,happy,carefree look.
I know occasionally I do see Kin Keiko in some of the fashion blogs but I don't think she gets the attention her designs deserve. Her style breathes fun,and light heartiness that you usually don't find in fashion regardless of where you look. Four enthusiastic paws up.. For Kin Keiko run don't walk to her store ASAP..
posted by Anonymous @ 11:14 PM

Writers for Couture Debut
Would you like to be reviewed?
Contact
Previous Post
Archives
Our Favorite Links
Powered by