Cassiopeia Isle Drive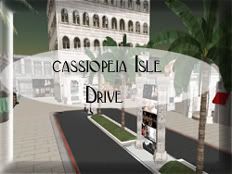 Put stuff here
put something here

Rentals
stuff here


stuff here
AD Space Open
Ad Space open ^_^
AD Space Open
Ad Space open ^_^
Stylish Shoes for men and women!
Saturday, February 10, 2007
Shoes can be one of the most important accessories of your avies life! Seriously, if you have the right shoes to kick off any outfit you will be one hot mamma – or even Papa!

I never realized how hard it was to find shoes for both men and women. I have to say this task was more difficult and had me wanting to run for the nearest well known accessory shop in the middle of my search. Being an equal opportunist I wanted both men and women to have something to check out, so I reviewed two types of footwear for each!




My first discovery has got to be these awesome boots! They look so cute on any male avie and you know, I think the hard core Goth type girls could wear them too. They are by SiniStyle and are called "Shit Kickers"! Well then.. what a name! They come in two colors of course your typical black that will go with just about anything as well as your brown shade of boot. What caught my eye about these boots is how carefree they look, as if you didn't spend much time putting your shoes on, yet they set off that bad boy image!

One thing I loved about this store was the simple fact that these boots were so easy to find. They were smack dab in the first spot I looked! Yay for easy to navigate stores! Another thing that rocked the house was the demo boot! I have in the past purchased shoes that I found to be cute on the picture of the box or even the model sitting out, but once my little foot goes inside them… my feet look huge and on rare occasions disfigured! Therefore I am a huge fan of the demo shoe.




These boots in black or brown shade come half untied. I love the 3D effect the laces give. One of the most important things to me with any object in second life is the transferable issue. Many people I've talked with say they would rather have an item be full copy…I have no clue why I am different, but I am. These boots are no Transfer but you can copy and modify them. Modify is another important factor, some people have weird shaped feet and need to mod their shoes rather then their shape! You can purchase these boots for a mere 400L at the new SiniStyle Design location in Mechozilla.

Being fair and for those GQ kind of male avies, I found a shoe for those guys who like to dress up. I was very impressed with layout of the store not to mention how nice the shoe looks on those grown men avies! My good friend Hans actually is the one responsible for finding this dress shoe and for being the way handsome model in the pics! The name of the shop is Y.S. authentics – and it can be found in the sim called PrimAdonna.




When I visited this store I was impressed with the variations as well as colors of shoes that were available to the well dressed man of Second Life. The layout of the store was probably one of the nicest I have ever laid my avies eye's on. Each shoe was show cased in a glass case for you to view. Some shoes even came with walk over riders so your guy wouldn't look as if he was galloping to his next formal event.




The shoe Hans Waldman is modeling is called The Newman. As you can see the shoe is very very well put together, giving a English leather look from laces to a shine on the top of the shoe to stitching on all sides as well as a soft shaded inside for your foot to rest comfortably. These shoes are made without the use of invisible prims. Another high point of this shoe is the simple fact it is transferable, so you can let a buddy borrow your shoes for his night out on the town! You cannot copy or modify these shoes but you can share them. For a mere 325 Lindens your feet can be stylin at the next black tie event!




Now what would any shoe article be with out the ladies!!! Being that were talking about dress shoes already, I want to show case probably the best prim heel I have ever laid my avie eyes on. The detail of these heels really prove that designers and builders out there really do take pride in their work and show it by producing products such as these heels that are found at the Sleeve 55 Studios office located in the sim TreeLine.





The store from the outside made me want to rush right in. It was built with a great use of colors let alone the style was impeccable. Inside you could see everything you wanted, shoes in different colors same style grouped together. Easy navigation is this girls friend. There was even a few stools I could plop down on not to mention the cutest cash register area in the middle of the store. While Ms. Vyre Cohen has made several types of shoe and sandals for men and women the one that caught my eye was the Strappy heels. I have to say too they make my feet look very sexy. The highlight of these shoes for me is the heel. You can see it's made up with several different prims giving it a very 3D look.




These heels look good with just about anything from skirts to shorts to high fashion ball gowns. I love the variation of colors and the way my foot looks perfectly fit inside the straps as if I was Cinderella getting ready for my ball. These shoes are a mere 250 Lindens, while they are no transfer or modify but you can copy these shoes so when your going out on the town wearing these shoes.. You know.. You're bringing sexy back, with the help of Sleeve 55 Studios.

Last but not least is some casual wear for both men and women. While the tennis shoes I selected were for the ladies. These shoes come in several different colors from black/white – white/black – light blue/white – pink/white – red/black and even yellow/white. My favorite thing about these shoes was the price… 75 Lindens! Anyone who knows me, knows what a bargain hunter I am. These cute casual shoes could be worn on both male and female avatars. What's cuter then two avies in love wearing matching tenny's? Another idea is matching shoes for parents and child avies.




These shoes can be found at the Nein! Shop in Athena! The shop is very large, but homey as you strole around trying to find your ideal items. The shoes are found upstairs with other accessories. The textures used on the shop and the layout shoes that great care was put into designing this shop. You can find more then just shoes here, there are boots as well as clothing and jewelry hanging on walls for you to purchase. My most favorite thing about Nein! Is the simple fact is that it is affordable for anyone. You can also buy these shoes for yourself or give them to a friend, they are no copy – no mod- but YOU CAN TRANSFER! YAY!




These adorable shoes are untied and come crafted with even a loop on the back, this designer thought of everything! The big fluffy tongue of the shoe hangs out for that lose fitting stylish look. I love prancing around in my tenny's when shopping, dancing or exploring!

So there you have it ladies and gents! Shoes for both men and women – the best stuff in Second Life that deserves a little attention! Ta Ta For Now!
posted by Tigerlady Jacobs @ 12:03 PM

Writers for Couture Debut
Would you like to be reviewed?
Contact
Previous Post
Archives
Our Favorite Links
Powered by