Cassiopeia Isle Drive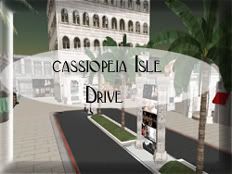 Put stuff here
put something here

Rentals
stuff here


stuff here
AD Space Open
Ad Space open ^_^
AD Space Open
Ad Space open ^_^
DarkStar Designs - Review of Gaia Goodnight's shop!
Friday, July 27, 2007
In my travels the last few months I have come across some awesome designers as well as shops… but when stumbled across DarkStar Designs by Gaia Goodnight, my breath was taken away. I found his shop located in the sim called Unlimited, if you follow this link you can check it out yourself.
http://slurl.com/secondlife/UNLIMITED/37/20/0
Darkstar Designs has so much to offer, from items, to hair to clothing. The items are a refreshing high quality. Not only is his items high quality, but this guy showed off his building talents in the Unlimited sim, building the stores and putting it together. He has more talent in his pinky then I could ever dream of having. I truly have been flabbergasted by how creative this guy is. You can tell he takes pride in his work, even his boxes are well put together/designed. Just by glancing in the store you can see the massive amount of hard work Gaia has put into his work.
Looking around his shop I found what I like to call my favorite outfit right now! For a mere 300 Lindens not
only do you get a skirt, socks, belt, 2 tops but boots and even HAIR! The set is called
::Lovers Rendezvous. The boots are top notch, the finest deatal was taken when creating them. The boots alone I would pay 300 Lindens for. They are brown leather, untied to fit just about any ones foot. The bottom of the shoes even have notches in them for a realistic look. They are simply the best boots I have ever seen in Second life. The socks are so cute, your toes stick out the bottom and one is a little higher then the other, it really makes your avie adorable. The prim skirt is flexi and fit on the first try. That's so rare! The fit was most excellent with a matching belt. The belt was high in detail notching, the buckle is no ordinary buckle… its in the shape of a heart. Such fine craftsmanship went into this ensemble. Trust this kitty, if you get this outfit, your tail will be swinging with happiness, this is a four paws up outfit!


Darkstar Designs even has items for the guys from high quality boots, to accessory belts. I suppose even the bad ass ladies could wear them. I'm loving this belt, it comes fully equipped with a dagger so you can stab
s with you then!! Darkstar Designs also has a climbing rope that wraps around your waist for only 50 Lindens, you'll be fully equipped for anything after you visit this shop!
My favorite set of boots I found in Gaia's shop have to be these awesome Ashwalker Boots. They go with everything! Side buckles keep them in place, a heel for that extra lift and even little loops in the back along the top rim. Again top notch texturing… These are only 100 Lindens… Can you believe it? Really I'm about ready to toss my kat nip aside and just roll around in my new boots!
Costumes, that you just have to see in person, the details of each piece that makes up an out fit is impeccable. There are cloaks for you to check out, headphones, a moogle that will follow you around and even full avatars, There is defiantly something for everyone in this shop! I think next Halloween I will try out his Rikku costume with interactive weapons! Speaking of weapons, Darkstar Designs has some of the most
killer guns I have ever laid eyes on, the price ranges from 100 Lindens to 200 Lindens and in between; you've just got to get over and check it out! I think Ill grab a blitzer belt for a mere 60 lindens, its an accessory that is a must!
Before your out of his shop, make sure you pick up some hair for your new look. The guys hair seriously will make your avie 10X hotter. When I first met Gaia he had his own hair on, and I was raving over how awesome I thought it looked. The girls could even wear some of his short hair for a shag look. The best part about the hair is the price, I am big on prices and his demos are free *so that's an automatic belly rub there* and the hair is only 100 Lindens a piece. How can you not pick up several colors at that price? Girls can choose from some flowing hair to pig tails to add a lil extra something
themselves.
Over all this guy can build and design with one paw tied behind his little back. Not only is he probably the sweetest person I've ever had the pleasure of meeting and becoming friends with, he is multi-talented. He's created several things that aren't up in his store, and does this all for the fun of it. He truly makes second life a better place just by having his creations and most of all himself as part of this virtual world.
Gaia Goodnight of Darkstar Designs, I give you 4 paws up, 2 belly rubs and a my post prize possession – my cat bed! You are truly a talented designer. Please everyone, check out Darkstar Designs asap!
posted by ~Pash~ @ 2:18 PM

Writers for Couture Debut
Would you like to be reviewed?
Contact
Previous Post
Archives
Our Favorite Links
Powered by